LTCC circuit substrate
Ambitious goals constantly focused on the next generation.
World-leading quality of LTCC circuit substrate, production and evaluation technologies.
To meet compact high density wiring, thanks to its LTCC (low-temperature co-fired ceramics) technology, LTCC Materials is working on the development of high-performance substrate products based on high-precision Via formation, pattern printing and lamination technologies. LTCC Materials has also made it possible to integrate RF circuits by combining RF designing and LTCC technology established over many years. We fulfill various requirments from customers using a variety of evaluation and analysis technologies.
Limitless Progress of fine-pitch wiring and lamination technology
Wiring Pattern
(L/S=50/50μm)

Fine Pitched Pad
(150μm)

Radiograph of Stacked Via Holes
(50 Layers, Via Dia. : 50μm)

Enlarged DUT Pattern
PROBE-CARD Structure
PCB + LTCC Pogo Pins Connected Type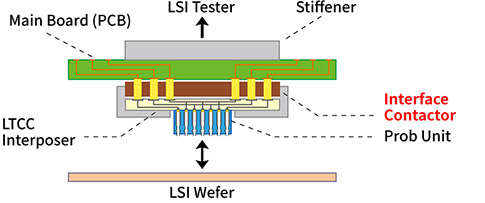 PCB + LTCC Direct Connected Type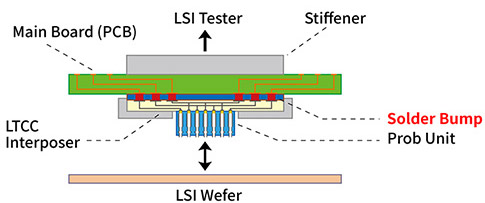 Camber Restraining Technology for Ultra Thin Substrate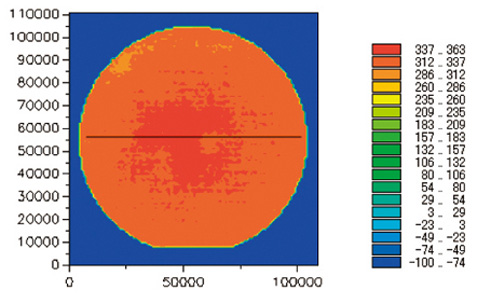 Whole Process Avairable, Circuit Design to Mass Production
Design

Material Design
Circuit, Wiring Design (including 3-D RF circuit)
Circuit and Electromagnetic Simulation
Thermal Simulation

Trial Manufacturing

Quick response with various apparatuses and specialists

Evaluation

Performance Evaluation
Reliability Tests
Inner Structure Analysis

Mass Production

Reliable mass production process based on superb production technology